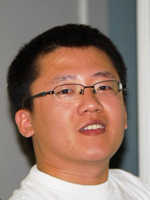 Wang, Xuexin
Assistant Professor
Phone:0592-2182202
Email:xuexinwang@outlook.com
Office:D221
Office Hours:
Research Fields:Econometrics
Homepage:https://metrixwang.github.io/
Education:
Ph.D in Economics, Universidad Carlos III de Madrid, Spain 2006-2012
M.A in Economics, Fudan University, China 2003-2006
B.S in Engineering, Shanghai Jiaotong University, China 1997-2001
Research Fields:
Econometric Theory, Financial Econometrics, Applied Econometrics
PUBLICATIONS
An Asymptotic F Test for Uncorrelatedness in the Presence of Time Series Dependence, 2019, Journal of Time Series Analysis, forthcoming, DOI: 10.1111/jtsa.1252 (with Yixiao Sun, UCSD)

A New Class of Tests for Overidentifying Restrictions in Moment Condition Models, 2019, Econometric Reviews, forthcoming, DOI: 10.1080/07474938.2019.1697085 (Single Author)

Asymptotic F Tests under Possibly Weak Identification, 2019, Journal of Econometrics, forthcoming 10.1016/j.jeconom.2019.10.011 (with Julián Martínez-Iriarte and Yixiao Sun, UCSD)

A General Approach to Conditional Moment Specification Testing with Projections, 2018, Econometric Reviews, Volume 37, 2, 140-165 (Single Author)

A Joint Portmanteau Test for Conditional Mean and Variance Time Series Models, 2015, Journal of Time Series Analysis, Volume 36, 1, 39-60 (with Carlos Velasco, UC3M)
WORKING PAPERS
Consistent Estimation of Models Defined by Conditional Moment Restrictions Under Minimal Identifying Conditions (2019) (Single Author), submitted

A Simple Asymptotically F-Distributed Portmanteau Test for Time Series Models with Uncorrelated Innovations (2019, with Yixiao Sun, UCSD), R&R at the JBES

An Asymptotically F-Distributed Chow Test in the Presence of Heteroscedasticity and Autocorrelation (2019, with Derrick H. Sun and Yixiao Sun, UCSD), R&R at the Econometric Reviews

Improved Consistent Conditional Moment Test for Regression Models in The Presence of Heteroskedasticity of Unknown Form (2013)
WORKING IN PROGRESS
A new class of JIVE estimator for linear instrumental variable models (single author).

Instrumental variable estimation via a continuum of instruments with an application to estimating the elasticity of intertemporal substitution in consumption (single author).

A consistent overidentification test for linear models with weak instruments (single au- thor).

Robust moment tests with asymptotically F distributions (with Yixiao Sun, UCSD).
National Natural Science Foundation of China (No. 71973115), PI, 2020.01-2023.12, RMB 480,000

Fundamental Research Funds for the Central Universities, Xiamen University, PI, 2017.1- 2019.12, RMB 100,000

National Natural Science Foundation of China (No. 71301136), PI, 2014.01-2016.12, RMB 205,000